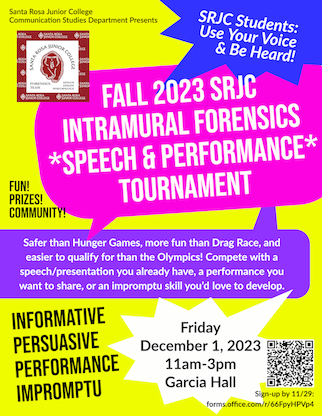 For further information and to sign-up for the intramural tournament go to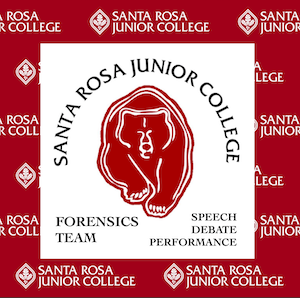 Fall 2023 Team and Comm 52 Meeting Times: 
Tuesdays 3PM in Garcia Hall 100
Fill out the interest form and we'll contact you.
Award Winners 2023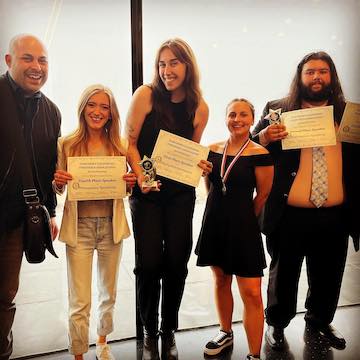 Forensics Team at Nationals in Washington D.C.  
Forensics Team 2023 with President Chong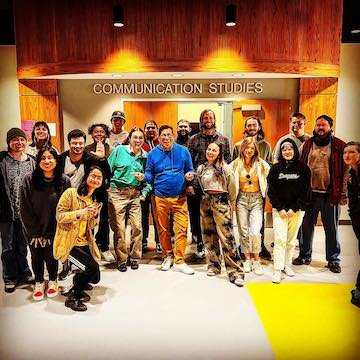 WHAT IS FORENSICS?
If you like to advocate, perform, travel, and grow, join the SRJC Forensics Speech, Debate, and Performance Team! We offer students opportunities to develop, refine, and practice communication skills. SRJC has a 100-year history of developing new speakers into confident performers, and guiding competitors to intramural tournament success, state titles, and national championships.
Get transferable and repeatable units (Comm 52A or B), enroll and compete every semester, grow communication and performance skills, play and experiment with ideas, advocate for a better world, make memories and connections, travel to new cities and campuses, expand your worldview, enhance your resume for your career, transferring, and graduate school, and work to be a national champion… all in a fun and supportive atmosphere!
Create & perform one or more of the following events: (for descriptions see Phi Rho Pi)
Prepared Speech (7-10 minutes):
Informative Speaking, Persuasive Speaking, After Dinner Speaking (Humorous/Stand-Up), Communication Analysis
Performance/Acting (7-10 minutes):
Solo: Poetry Interpretation, Prose Storytelling, Drama/Acting Monologues, Intertextual Program (multiple texts)
Group: Duo Interpretation (2 people), Reader's Theatre (3 or more people)
Limited Preparation:
Solo: Impromptu Speaking (5 minutes), Extemporaneous Speaking (7 minutes)
Group (Coming soon) : Debate (Parliamentary, IPDA, Lincoln-Douglas)
If you like to advocate for change, persuade, inform
FOR FURTHER INFORMATION ON EACH EVENT CLICK ON THE TITLE ABOVE THE VIDEO.
If you prefer to be spontaneous
If acting or performing inspires you
If you like to argue and use logic