The Digital Film Production Program is for students interested in making digital media.   Students learn various modes of production and storytelling by studying the art and science of production.  The program provides a broad overview of the production world so that students can choose which area they like best: fiction, non-fiction or live broadcast media.  Student have access to a high-end, multicamera production studio, multiple green screen spaces, and a variety of industry-standard production equipment.  Students get a collaborative, hands-on experience.  There are a variety of opportunities for students to grow as artists and professional storytellers. Whether students are coming out of ambitious high school production programs, or are new to the industry, SRJC's Digital Film Production Program will advance their skills, knowledge and connections.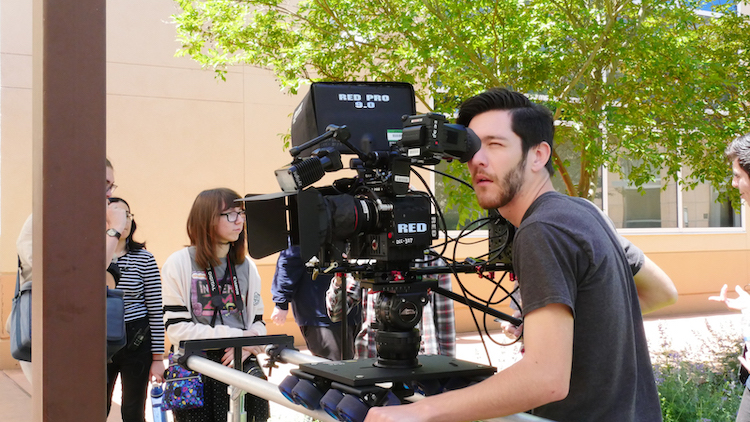 Here is a short film about SRJC's Digital Filmmaking Program.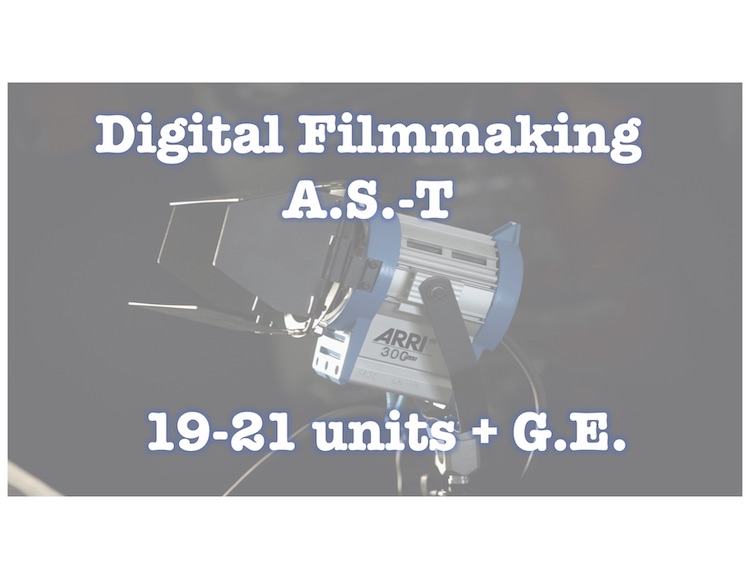 Digital Filmmaking Curriculum – The Associate of Science for Transfer (A.S.-T) and Certificate
The Associate of Science for Transfer (AS-T) in Film, Television, and Electronic Media is designed for students pursuing transfer majors in film & media studies and film & television production.  It is designed to give the student a basic framework with flexibility to tailor the degree to their interests.  It provides a basic foundation in film aesthetics, screenwriting, and digital media production while meeting the typical lower division requirements for a bachelor's degree in Film/TV/Media at a four-year institution. Articulation agreements with California CSU and UC schools allow students to transfer easily and retain their credits. 
The major is designed to prepare students for careers in the film and television industries by giving them a variety of hands-on opportunities, including: using industry standard technologies in the production of student-created content; writing and producing original screenplays; working collaboratively in film production teams and with industry professionals; working collaboratively with SRJC's award-winning student newspaper The Oak Leaf on important local and national stories; and programming and event planning for the Petaluma Cinema Series and Film Fest Petaluma.  State-of-the-art facilities include a fully-functioning multicamera broadcast studio, student accessible digital media suites & VR lab, Petaluma Campus' elegant 250-seat 4K motion picture theater -- the Carole L. Ellis Auditorium, and Santa Rosa Campus' brand new 50-seat screening room. 
Upon successful completion of the AS-T in Film, Television, and Electronic Media, the student will be able to:
Analyze visual media from a technical, aesthetic, historical, and cultural point of view;
Demonstrate fluency in the language of film production and criticism;
Structure and develop a narrative into a properly formatted screenplay;
Plan, organize, and execute the production of digital media projects;
Collaborate effectively in production teams.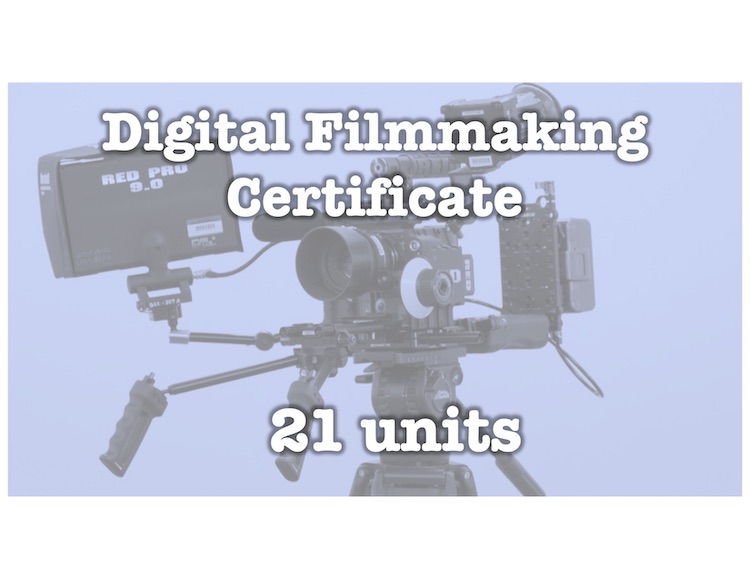 The Digital Filmmaking Certificate is designed for students who may not be interested in studying media production at a four-year school, but still want to take specific classes in the field of digital media production.  The certificate is a 21 unit certificate designed to give students foundational knowledge in fiction, non-fiction and live broadcast production.  It is similar to the AS-T but without the general education classes.
Upon successful completion of the Certificate in Digital Filmmaking, the student will be able to:
Understand the essential workflows and career paths within the digital media production industry.
Have a working knowledge of the basic technologies within the various digital media production departments.
Be able to work in teams creatively and technically and have the opportunity to make lasting professional relationships.
Gain valuable production experience in the creation of original work for their professional reel/website.
Certificate   Click here for more information on requirements and course sequence recommendations.

For more information on the Digital Filmmaking Curriculum, watch our video
Student Testimonials